Over the Years with Peters Vineyard
Taste your way through the years with a side-by-side vertical tasting!  Join us for an intimate tasting with Executive Winemaker, Ben Papapietro, Winemaker, Dave Low and Fourth Generation Farmer and Vineyard Owner, Randy Peters. The event will be led and hosted by Wine Club Manager, Dianna Barr. Sip, savor and learn about our wines while discussing the different and distinct characteristics of the vineyard and its evolution over the years. This special event will be hosted live at the winery and via Zoom. Don't miss the chance to hear about this amazing 25-year partnership!
This event is on Saturday, December 2, 2023, from 2:00pm – 3:30pm PT via a Zoom Meeting and at the winery.
Dry Creek Kitchen Winemaker Dinner Series
Dry Creek Kitchen's Winemaker Dinner Series is a monthly event showcasing some of the region's most exclusive wines, along with an expertly paired tasting menu, highlighting local purveyors and seasonally sourced ingredients. Join Ben Papapietro & David Low for a Winemaker dining experience featuring our award-winning Pinot Noirs paired with Dry Creek Kitchen's exceptional cuisine by celebrity Chef and Healdsburg local Charlie Palmer, and Executive Chef Shane McAnelly.
Priced at $195 per person, includes wine pairings.
Experience 50+ wineries with Wine Road's 31st Annual Winter WINEland! Start your day with us in the heart of Dry Creek Valley, with a winter wonderland you won't want to miss! Enjoy award-winning Pinot Noirs with a delicious pesto & Parmesan twist. Chat with our friendly hosts, take some fun photos at our photo booth, and listen to lively music while sipping some of our handcrafted wines.
We are proud to bring back this beautiful pairing of two delicacies, award-winning wine, and sustainably sourced caviar. We couldn't pass up partnering with The Caviar Co. again, they create a product of the highest quality and consistency with unsurpassed taste! Plus, when you find two family-owned companies that started in their home, you know it's a great match. Join us as we open our palates to this authentic Wine & Caviar tasting. Hosted live at the winery and via zoom with one of our esteemed winery hosts, Nancy Juarez, and one of the founders of The Caviar Co., Petra Bergstein.
This event is on Saturday, January 20, 2024, from 2:00pm – 3:30pm PT via a Zoom Meeting.
Passion 4 Pinot – Palm Springs
Join Papapietro Perry at this celebration of Pinot Noir, where you will discover what makes this grape so unique. Mingle with other Pinot aficionados as you explore tastings that profile the uncompromising characteristics and unforgettable traits of this wine.
Passion 4 Pinot highlights the different winemaking practices and philosophies that produce these distinct wines. Don't miss the opportunity to relax and unwind at the world-class Westin Rancho Mirage Resort & Spa. Owners Ben & Yolanda Papapietro and Wine Club Manager Dianna Barr will be pouring throughout the day. Please come by to say hello and share a glass with us!
Use Code: PAPA for $25 off  EARLY ENTRY TICKETS PURCHASES
Wine & Truffles – Valentine's Date Night
Celebrate Valentine's Day early with a cooking date night! Join us as Truffle Shuffle returns with another great event featuring our nearly sold out 2022 Rosé of Pinot Noir! This full-service cooking class will include a cooking kit shipped directly from Truffle Shuffle with every ingredient needed to make their delicious Chicken Marsala with the Louis XIV chocolate chip cookies for dessert. Enjoy this interactive and lively experience with Co-Founder of Truffle Shuffle, Chef Tyler Vorce along with our Tasting Room Manager, Nancy Juarez.
This event is on Wednesday, February 7, 2024, from 4:00pm – 5:30pm PT via a Zoom Meeting.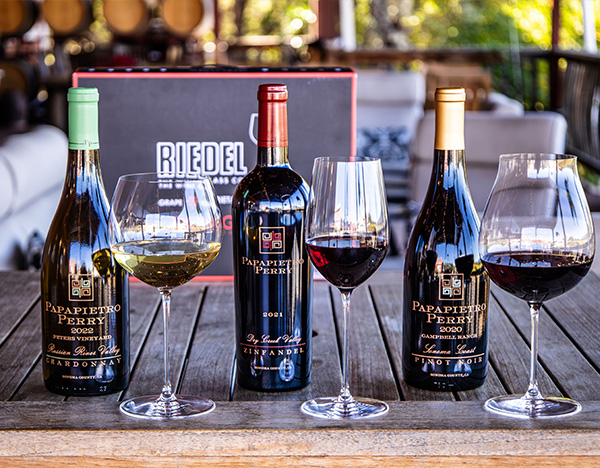 Riedel Veritas Glass Seminar
We've teamed up with Riedel to bring you a brand NEW event! For this upcoming seminar we will feature a custom set of Veritas glasses, giving us the opportunity to highlight all three of our varietals, our Chardonnay, Pinot Noir and Zinfandel, with one set of glasses. Join this exclusive event to learn about stemware from a seasoned expert and acquire Riedel Veritas wine glass sets for an extraordinary value.
This hybrid event is on Saturday, March 9, 2024, from 2:00pm – 3:30pm PT at the winery or virtually via Zoom.